Trading Game Forum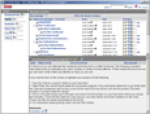 INTRODUCTORY
INTERMEDIATE
ADVANCED
INTRODUCTORY
INTERMEDIATE
ADVANCED
I think we'd all agree that an ongoing education system is absolutely essential to master any skill. This is where the Trading Game forum can help.
Our forum is the place where trader's seeking solid results and greater control, independence and security, come together. Trading mistakes can be expensive, so it makes good sense to learn how to avoid them.
The Trading Game Discussion Forum has been designed to bring together professional traders with decades of experience and new traders who are just starting out on their trading career. This is your short cut! If you want to ask a professional trader a question about trading system design, money management or the subtleties of trading the current market then this is the place to ask.
Whenever you feel that you can't go forward, whenever you get stuck, just hop onto the forum and we'll set you straight. There is nothing that you'll encounter that Chris and Louise haven't conquered. They have mastered this business so that it works time after time, so use this service to get them in your corner, encouraging and enlightening you, giving you the short cut to trading success.
If you're intent on creating exceptional trading results, while having a sense of belonging with a wider successful sharetrading community, you need to become a member of the Trading Game forum without delay.
We've worked with a lot of private traders and one thing they tell us is that their success has skyrocketed, often within weeks of seeing us. You owe it to yourself to pursue your own trading education with passion and enthusiasm. Securing a coach will be one of the best investments you'll ever make for your own trading results. Chris and Louise will be on the forum to coach you towards becoming the best trader you can be by providing world class trading education and advice.
Some of the Trading Game products come with complimentary forum access.
For example, you will receive 12 months access (with our Home Study Range)
6 months access (with our DVD range):
3 + months access per CD in each pack, with our CD range:
The tools and techniques that Chris Tate and Louise Bedford reveal on the forum are available to you at a fraction of what the people who have personally trained with them have paid in the past.
Trading Support Guaranteed
By using the forum, we guarantee that you'll have access to the knowledge of two gifted, internationally recognised sharetraders – Chris Tate and Louise Bedford - and receive an incredibly effective source of ongoing education about the very latest sharemarket strategies and techniques. You'll also gain access to the support of other massively successful traders who have been trained personally by Chris and Louise. This exposure to professionals allows inexperienced traders to find answers to questions that would normally take years of trial and error to answer.
If you want to ask a professional trader a question about trading system design, money management or the subtleties of trading the current market, then this is the place to ask. In fact, the people who ask the most questions are usually the ones who tend to derive the best trading results over time.
Out of all of the services Chris and Louise offer, this is the silver bullet. If you want to be a trading gun, you simply have to become a member. Cut price, top notch, and focussed on your needs, you cannot afford to stumble around in the dark any longer. Come on into the forum and join our world!