Last night I caught a snippet on Woodside calling it quits on a prject in WA. Ordinarily this wouldn't worry me but I was intrigued by all the crap speak that surrounded the event. So I went in search of what was actually happening. –
Woodside Petroleum Ltd. has decided against using the Western Australian government's James Price Point LNG hub for development of its Browse Basin gas fields.

The company told the market Apr. 12 that the proposed James Price Point development "does not meet the company's commercial requirements for a positive investment decision."

Woodside said it made the decision following a review of tenders for both upstream and downstream sectors of the Browse development. The company will now meet its joint venture partners to discuss and plan a new development concept for the project. Source Oil and Gas Journal
Which of course sent everyone vaguely associated into a spin. In particular it seemed to cause every politician within earshot to claim that investment in resource projects was still motoring along. I thought this was an interesting choice of words – since investment in resource projects and a resource boom are two different things. But there was a desperate attempt to equate the two.
So I did a little digging and found the following –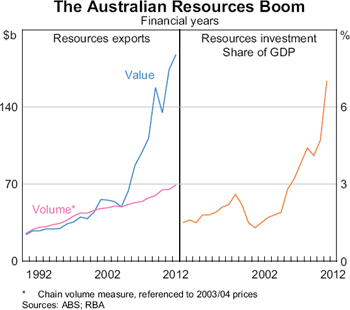 Apparently according to the RBA investment in resource projects is still strong but even they have used the wrong term. The chart above is from the RBA and is labelled Resources Boom which is incorrect – it is an infrastructure boom. If we were having a resources boom the industrial metals would not look they do.
They all look pretty ordinary as does the Shanghai Composite.
The issue here is one of words and their meaning – we are not having a resources boom but and investment in resources projects boom.  The two are very different as evidenced by the charts above. The RBA data is trailing data and does not relate to markets – the charts of the industrial metals and the Shanghai Composite are forward looking price related and this is the sort of data we should look to.
Its interesting how little research projects turn up some interesting facts and uncover the true meaning of weasel words.