The Profits Mindset Pack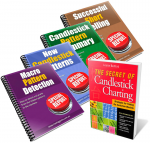 INTRODUCTORY
INTERMEDIATE
ADVANCED
INTRODUCTORY
INTERMEDIATE
ADVANCED
Get these charting techniques right and it will do wonders for your mindset!
Wrap your mind around these top resources by Louise Bedford. Each Special Report is a comprehensive pdf that you'll receive immediately. You'll receive the Candles book by mail shortly after. Here's what you'll get:
1) Special Report - Candlestick Pattern Summary This handy pdf quick reference guide that you can refer to in order to help you remember the patterns, and confirm the validity of any pattern that you come across.
This report makes learning the candlestick patterns so easy, you'll be able to begin trading with them within 5 minutes of reading it! With this guide, you'll adore how simple these patterns are to understand, and this guide makes effective trading like child's play.
2) Special Report - Macro Pattern Summary
You'll learn macro patterns like Double Tops and Ascending Triangles in no time with this easy to understand pdf guide.
Part 1 provides you with diagrams of the most frequently occurring Macro patterns, as well as information on the formation description, location and psychology.
Part 2 gives you a chance to practice your skills so that you can ensure correct identification of patterns on a series of charts. This will help you to consolidate your knowledge.
3) Special Report - New Candlestick Patterns
By the end of this pdf Special Report you will:
Be able to recognise four completely new, incredibly effective candlestick patterns.

Recognise the appropriate lead-up, trigger and confirmation of these patterns.

See how these patterns perform when subjected to candle addition, and gain an insight into the psychology behind these formations.

Have ample opportunity to identify and interpret these patterns by looking at charts and practicing your skills.
4) Special Report - Successful Short Selling
It is essential to your longevity as a trader to learn how to trade downtrends effectively. Short selling is an alternative to options that still allows you to profit from a downtrending market.
By the end of this pdf Special Report you will:
Know how to identify a share that is downtrending.

Have a list of objective questions to define whether a share is downtrending.

Practice your skills by applying your knowledge to a real-life example.

Be able to define short selling

Feel confident defining your own personal set-ups and triggers that you can utilise to engage a short sell position.

Learn to set a stop loss for this type of trade.
PLUS
5) The Secret of Candlestick Charting Book
This book not only reveals the main continuation and reversal patterns in current Australian markets, but it also describes unique strategies that put these patterns into context.
Written in easy-to-understand language, these techniques are highly recommended for any traders or investors who wish to develop their technical analysis abilities and enhance their profitability.
What difference would this make to
YOUR TRADING?


What changes would this make to

YOUR LIFE?




Can you afford not to try?
GET YOUR FREE TRADING PACK
from the creators of the #1 TRADING MENTOR PROGRAM in the world.