The Introductory Pack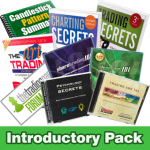 INTRODUCTORY
INTERMEDIATE
ADVANCED
INTRODUCTORY
INTERMEDIATE
ADVANCED
Have you always wanted to get involved in the sharemarket, but haven't been sure about where to begin?
Here is the solution.
This Introductory Pack will provide you with all of the educational tools that you need to develop your trading plan and get started trading. Designed to help you get up and running as quickly as possible, the combination of products has been put together with your needs in mind.
If you're keen to short-cut the process and learn techniques that have taken professional traders Louise Bedford and Chris Tate over 30 combined trading years to learn, you need the Introductory Pack. They'll take you through specific strategies that can revolutionise your profits and accelerate your success. They've cracked the code, and they're ready to hand it to you!
After immersing herself in products created by Chris and Louise, here is what one trader had to say:
I am so excited! I KNOW I am going to make it. I love the fact that ALL of the emotion has been removed - that is soooo cool. I AM going to make this 'what I do' eventually as my account, confidence and consistency grows. So I just wanted to say thank you for the impact that you've had on me and helping others to do what you have mastered. I've been trading actively for the past few months, and I've won some and been stopped out of some others. I have added 50% to my trading account already!" - Chrissi Daniels, part-time trader, NSW
There are people making money in today's market, right now. Why not you!
Special Offer
By ordering these products as a pack, you will receive a huge discount, and pay only $695.00 instead of $869.70. You will also become a member of the fabulous training resource – The Trading Game forum - for 12 months.
The forum will allow you to ask your individual questions about trading and the information provided. This type of support is essential, especially when you're starting to trade.
Order your pack today!
The Items included in this special pack are:
NOTE
Freight Costs for this product differ from the standard Trading Game Costs