The Intermediate Pack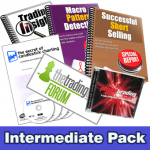 INTRODUCTORY
INTERMEDIATE
ADVANCED
INTRODUCTORY
INTERMEDIATE
ADVANCED
So you've grasped the basics of trading, but you're not quite sure how to blow the lid off your trading potential?
The Intermediate Pack is exactly what you've been looking for.
This combination of DVDs, Special Reports and an incredibly comprehensive CD will take your trading to the next level. Learn how to profit regardless of whether the market is trending up or down using CFDs, short selling, and specific entry techniques that will give your trading a definite edge. Because all trading incurs risk, you need expert tuition to help guide you through the minefield. This pack provides you with specific guidance so you can get more 'bang for your bucks' and enjoy the freedom to do what you really want, sooner. Professional traders commit to their own education. Make the decision today to develop your skills so that you can trade regardless of market conditions.
Here is what one of the Trading Game graduates has to say about Chris and Louise's training methods:
I have to say that having seen a lot of presenters around the world now, you guys are still #1 on my list! This is, by far, the best material and the value for money is simply unbeatable. The foundations you've built for me underpin every trading system I've designed since. Because of the principles you've taught me I've now been able to travel around the world, as a sort of nomadic trader. I lived in Miami for a while and while on the road traded from locations ranging from parks in Milan and Rome through to Starbucks in London, Paris and beyond, learning more about the world of trading and expanding those base principles as I go. I'm now living in Singapore for a while, with Shanghai next on the list, followed by Rio for a trading base next year, but hey, who knows! I can't thank you enough for everything you've taught me about trading and the difference it has made to my life. Rob McDonald, Full-time 'nomadic' trader, Malaysia
The powerful principles in this training have worked wonders for so many people. Now it's your turn too. Order your Intermediate pack NOW!
Special Offer
By ordering these products as a pack, you will receive a huge discount, and pay only $1695.00 instead of $2559.80. You will also become a member of the Trading Game forum - for 12 months so you can ask specific questions to a vast array of professional traders.
Order your pack today!
The Items included in this special pack are:
NOTE
Freight Costs for this product differ from the standard Trading Game Costs